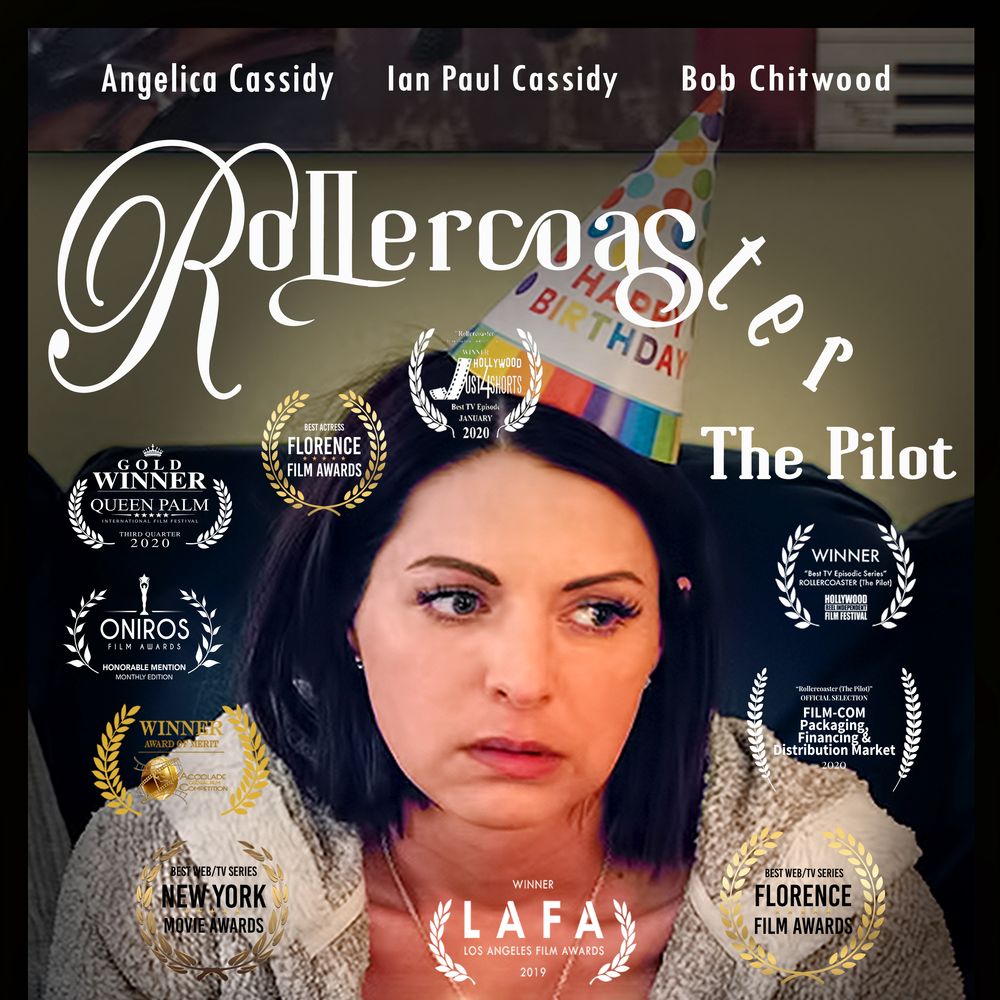 ROLLERCOASTER (THE PILOT)
Created By Angelica Cassidy & Ian Paul Cassidy
RollerCoaster is a music filled romantic comedy series, that follows Angelica, a sarcastic and quirky actress, singer and writer. The story of her strange life in Los Angeles unfolds, with odd-ball characters and awkward moments, all while following the writing of her country-pop album. It's a feel good, dry comedy, with an inside look to the writing of an album, weaved into a modern day love story.
The pilot is based on the first single on the album, "I Won't Go Back", and addresses domestic violence, addiction, and getting away from abuse, as well as addressing all the hardships artists face trying to make it in Hollywood. The series as a whole focuses on female empowerment and modern relationships. A powerful underdog story of an independent female artist creating her dreams, perservering and overcoming every hardship that comes with telling her personal story, and the love story that fueled her movement.
In late 2017 through mid 2018, Angelica starting working on a new EP entitled "Rollercoaster", a collection of pop, bluesy, rock and country tunes in support of her self-written, self-produced, and self-directed television series, also entitled "Rollercoaster". She stars in this quirky, music filled comedy, with her now husband, Ian Paul Cassidy. The couple started Mr. Mugs Productions together, and co-created the series. An epic love story, with ups and downs along the way, "Rollercoaster" is a feel good show based on Angelica's life, and the making of the new EP. Its a powerful female underdog story, full of ridiculous comedic moments and genuine life moments. The pilot is currently being shopped to production and entertainment companies. It had it's world premiere at The Hollywood Reel Independent Film Festival on February 15th, 2020, where it won "Best Episodic Series". It has since won "Best Tv Pilot" in The Los Angeles Film Awards, The Oniros Film Awards, The Hollywood Just4Shorts Film Awards, The Accolade Global Film Festival, and The Florence Film Awards. The Florence Film Awards also recognized Angelica as "Best Actress", as well as the pilot winning in its category. The Queen Palm International Film Festival is screening the Pilot in September 2020, and they have honored Angelica with their "Best Writer" award in her category, leaving the Pilot with 9 wins on the festival circuit so far.
Angelica and Ian are still cruising the festival circuit, while also simultaneously shopping the rest of the series to networks and pitching to production companies, and creating sync licensing and music placement  relationships daily to push her musical artist career, and the songs from the show's soundtrack. Even as the world goes through this tough Coronavirus time. They are committed to bringing their content to audiences all over the globe in the near future, and are dedicated to helping the world laugh and sing, as we go through these troubled times.